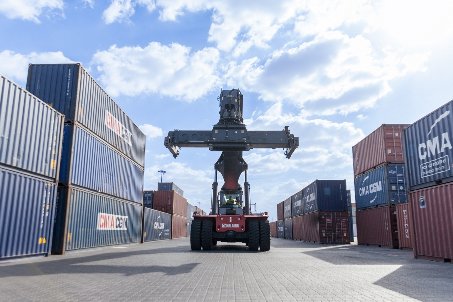 Sharjah Inland Container Depot (SICD) was opened on April 2004 and is the only inland container depot in UAE as of 2019. It is strategically situated on the edge of Sharjah city next to the Dubai border and between the outer Dubai bypass road and the Emirates highway with easy access to the Sharjah industrial areas and direct links to the East Coast and other industrial areas of the UAE. All Sharjah and Northern Emirates containers from K.C.T. (Khorfakkan Container Terminal) are received at and distributed from SICD.
The SICD is constructed to the highest standards containing offices, warehousing, L.C.L (Less-than-Container-Load) facilities, workshops and a Container Repair facility. The depot covers an area of 180,000 square meters and is capable of stacking 6,000 TEU's and also has 80 reefer points. The facility is equipped with the latest technology, advanced mobile container handling equipment and controlled by a state-of-the-art, sub-second response computer system resulting in quicker delivery times to our customers. To enable the depot to be a one-stop shop there are customs and health facilities on site, as well as agency offices of the major shipping lines. Therefore, processing the clearance and receipt or dispatch of cargo through the terminal could not be easier.
To give customers a seamless service, Momentum and its parent company, Gulftainer, the world's largest privately-owned port operator, launched a cargo clearance service in the UAE – Sharjah Port of Trade (S.P.O.T) services, a new strategic sea cargo clearance offering.
Offering unparalleled connectivity between Sharjah and Dubai, S.P.O.T services can be availed at SICD, located at the crossroads of the E311 highway and Maliha Road.
S.P.O.T offers the fastest transit times and lowest service costs to deliver cargo north of Al Barsha area, as well as end-to-end connectivity across the UAE. Its strategic location, just 10 minutes from the E311 highway and 15 minutes from the E611 highway, enables a reduction of delivery costs from port to door by as much as 80 percent.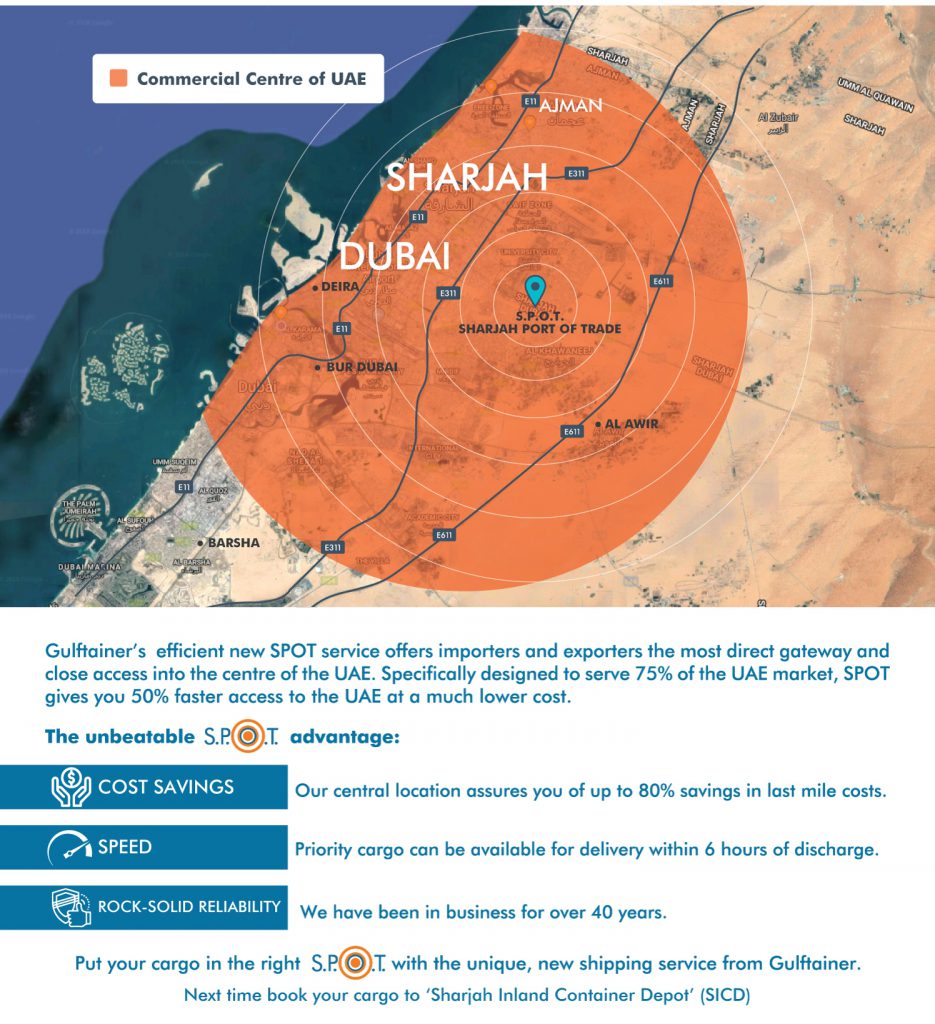 For more details Email Us or Call us at +971 65128888 or leave your details here and we will get back to you.